| -- | Departure | Return | Price |
| --- | --- | --- | --- |
| February 2023 | February 20, 2023 | March 3, 2023 | $5,200 + Int'l. Flight |
The above-mentioned fee covers:
All Lodging and meals
Tips for all guides, drivers and handlers (But remember to leave $1.- USD tip in hotel room each morning.)
eVisa fees
Domestic Flight from Cairo to Sharm El-Sheikh
Free wifi access in the bus
Crossing the Red Sea; Ferry ticket from Nuweiba to Aqaba
Entrance Fees for all Museums and biblical sites
Entry fee for crossing all borders
Snacks, bottled water, juices throughout the trip
The items not included in the above mentioned fee:
International flight ticket
Traveler's Insurance
Alcoholic drinks during meals
Personal preference expenses; shopping/gifts, sundry items
Tips for housekeeper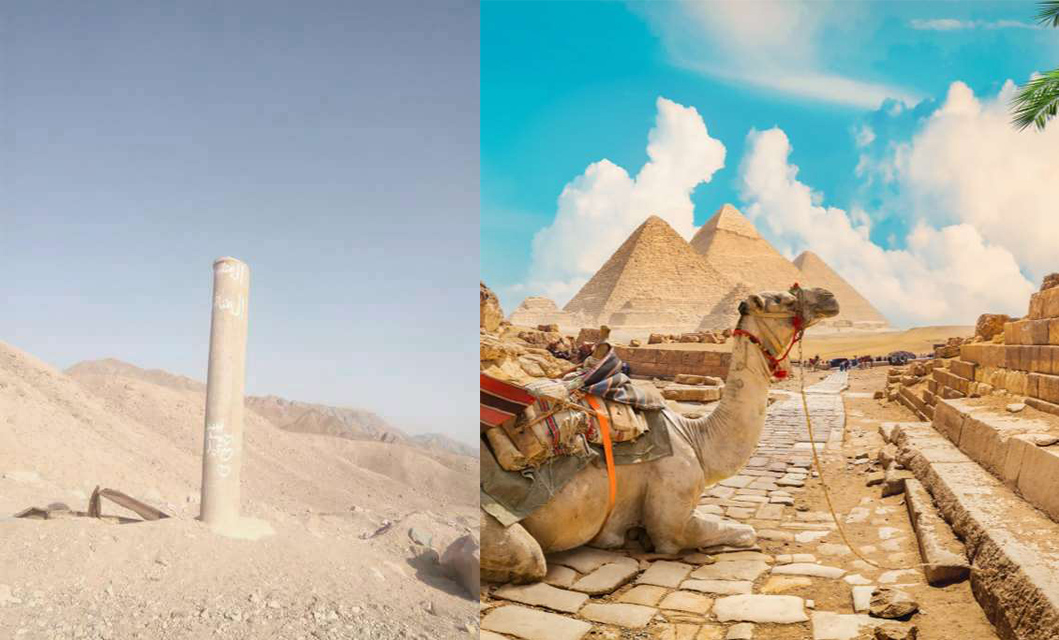 | DAY | SITES |
| --- | --- |
| Day 1 | Arrive Cairo International Airport (Egypt) |
| Day 2 | Visit Saqqara - Giza - Pyramids - Sphinx |
| Day 3 | Tour the Israelite region of Goshen/Nile Delta |
| Day 4 | Visit Cairo Museum - Tour Old Cairo & the Great Palace(Khan el-Khalili) - Flight to Sharm El-Sheikh |
| Day 5 | Nuweiba - Solomon Pillar - Take a Ferry to Aqaba, cross border to Saudia |
Day 1: Arrive Cairo International airport
Move to hotel (Conrad Cairo hotel or similar), check in and rest
Day 2: Saqqara Complex - Pyramids of Giza, Sphinx
Check out after breakfast
Saqqara Complex
The oldest complete stone building complex known in history
Pyramids of Giza
Three Great Pyramids and Sphinx of Kufu, one of the Seven Wonders of the World
Lunch : Le Pacha 1901 restaurant
Museum
Visit the National Museum of Egyptian Civilization and the King's Royal Mummy room.
Exodus Seminar 1
Hotel (Conrad Cairo hotel or similar)
Day 3: Israelite region of Goshen/Nile Delta
Check out after breakfast
Travel by car for three hours to visit Goshen in the Nile Delta. The fertile land of Goshen is famous for its discovery of the ark in the movie Indiana Jones, and it is the city of Prince Ramses of Exodus.
Visit the archaeological site of ancient Tanis(Zoan in Num. 13:22)
Hotel (Conrad Cairo hotel or similar)
Day 4: Cairo Museum / Tour of Old Cairo
Check out after breakfast
Museum of Egypt
Visit the Egyptian Museum, which features numerous artifacts from Tutankhamun and the Merneptah monument.
Old Cairo
Tour attractions such as Hanging Church from 200 A.D., Jespina(Joseph & Mary) Church, Moses Memorial Church (Ben Ezra Synagogue), visit a working Perfume Factory, Sultan Hasan Mosque and Madrasa (an Islamic School), Walk the Khan el Khalili market.
Exodus Seminar 2
Hotel at St. Catherine's Monastery Guesthouse
Day 5: Nuweiba - Solomon Pillar & Cross the Red Sea
Final breakfast in Egypt
The Pillar of Solomon
Move to Nuweiba CIty and view the Pillar of Solomon, erected 900's B.C. to commemorate the Crossing of the Red Sea. A matching column was built on the Egyptian side, but destroyed by Muslims
Cross the Red Sea
From the Port of Nuweiba we take a ferry across the (real) Red Sea to the Port of Aqaba, Jordan!

Saudi Arabia & Mount Sinai (6 days/5 nights)
| DAY | SITES |
| --- | --- |
| Day 5 | Entry via the Port of Aqaba and journey to Haql, Saudi Arabia |
| Day 6 | Opposite side of Nuweiba - Split Rock(Ex. 17), Shuaib Kaf of Jethro, Ex. 4:18), Bir Musa(Moses' Well), Ein Musa(The Spring of Moses), Elim |
| Day 7 | Al-'Ula region: Gramel Mountains, Rainbow Rock, Mada'in Saleh (Migration), Old Market |
| Day 8 | Al-'Ula region: Elephant Rock, Dadan (Jer. 49:8) and Jabal Ikmah |
| Day 9 | The kingdom of Lihyan, Jabal al Lawz; Mtn. of Laws (Ex. 20), Golden Calf site (Ex. 32), 12 stone altars and ancient graveyards |
| Day 10 | Depart Saudi Arabia |
Day 5: Haql, Arabia
Dinner at fabulous local seafood restaurant
Hotel (Beta resort)
Day 6: Split Rock & Elim
The opposite coast of Nuweiba
Split Rock (the rock at Rephidim, Exodus 17:6) Rephidim, the giant rock that split is located northwest of Jabal Maqla (Saudi name of Mt. Sinai). This split rock was discovered by Jim and Penny Caldwell in early 1990.
Elim (Al-Bad) (Exodus 2:15-16)
In the amazing biblical place called Elim, there were 12 streams and 70 palm trees - unique to this region. It is 3.7 miles away from Exodus landing point of Tayeb/ESM Valley.  Also in this Hejaz region is Jethro's town of Al-Bad. 1-2 miles to the south are The Caves of Jethro ("Magha'ir Shu'ayb"). Archaeologists hold that these caves are 1st century A.D. Nabatean tombs. ("Magi" in Matt. 2:1-2)
Magna (Magna Tabuk: Elim, Exodu 15:27)- PalmsOasis/Moses' Oasis (Exodus 15:27) Then they came to Elim, where there were 12 springs and 70 palm trees, and they camped there near the water.
Magna (Also called Makna) is an area along the coast of Aqaba in Saudi Arabia, which is on the Red Sea coast to the southwest of al-Bad. Local tradition also holds that "Bir al Saidni" located in the nearby coastal town of Magna as the very well from which Moses rolled away the stone to draw water for the flocks of Jethro's daughters.
Moses' Well: (Exodus 2:15-16)
This is the very well where Moses helped protect Jethro's seven daughters from the local shepherds and drew water for their sheep. Here Moses also met Zippora, Jethro's daughter whom he married. Although the town's name is Al-Bad the local people simply call it "Jethro".
Exodus Seminar 3
Hotel ( Swiss inn in Tabuk)
Day 7: Al-'Ula (Dedan)
Al-'Ula was the second largest city in the Kingdom of Nabatea; Dedan in the Bible. (Ezkl. 27:15, Jer. 49:8). Al-'Ula is a living museum with a long history of Arabia. The many attractions include Saudi Arabia's first stone- lion tomb in the ancient capital of Dedan, an open library carved into the rock of Jabal Ikmah, and stone maze leading to mud brick houses from the 1100's A.D. in the old city of Al-'Ula.
Rainbow Rock
Mada'in Salih (Hegra) - UNESCO World Heritage Site in Saudia
Old Market street
Hotel (Shaden Resort)
Day 8: Adventure Day in Al-'Ula
Elephant Rock
Dadan  & Ikmah
Hotel (Swiss Inn in Tabuk)
Day 9: Mt. Sinai
Mt. Sinai (Jabel al Lawz/Jabal Maqla): (Exodus 19:17,18)
Mount Sinai is the holy place where God came, the location that served as the most solemn scene of all. Here God chose to give His Ten Commandments to His people. God came down in the midst of fire, and the entire mountain was filled with smoke. The distinctively black top of Jabal Maqla has clearly been scorched. As you gaze at the scorched mountain top, it will be a precious moment to imagine how the Israelites felt as God trumpeted and spoke through the fire.
Golden Calf Petroglyph (Exodus 32:21, Exodus 32:1–4)
When the people saw that Moses was so long in coming down from the mountain, the Israelites pressured Aaron to create a golden calf. All the above-mentioned traces are found in close proximity to Mt. Jabal Maqla. The huge altar, where archeologists surmise the golden calf was placed, is prominent! On the stone of the altar are numerous petroglyphs, depicting cows, calves, and Israelites dancing in a festival.
Graveyard (Exodus 32:28)
3,000 or 23,000 Israelites were put to death as result of their idol worship and sexual immorality (see I Cor. 10:8). The dead could not be buried inside the camp but in the large public graveyard outside. Penny and Jim Caldwell discovered the ancient graveyard approximately 6 miles away from Jabal Maqla Base.
The 12 Stone Altars In Front of Mt. Sinai (I Kings 18:31)
These stones are considered to be the stone pillars built according to the twelve tribes of Israel. Each diameter is two feet. Nine out of these twelve still stand at the site. The remaining three have not been located. Scholars and explorers once wondered where this marble had come from. Eventually a large white marble quarry was discovered three miles west of the foot of Mose's Mountain. This quarry is over 1500 feet higher in elevation from where these pillars are found today.
Exodus Seminar 4
Day 10 : Going back Home
Final breakfast, check out, go to the airport, fly Saudi to USA.
Items to Prepare for Pilgrimage Tour
Documents/ Smartphone App
Passport and ID (Green Card for permanent residents)
A Proof of Vaccination: For timely processing, please download your vaccination QR code on your smartphone beforehand. It is advised that you carry a printed QR code in case of poor internet connection at the entry point. The link for residents of California to download their QR code: https://myvaccinerecord.cdph.ca.gov
(Check the web regarding vax etc., since global requirements change frequently.)
Online Vaccine Registration for Saudi
(https://muqeem.sa/#/vaccine-registration/home)
General Items Check List
One checked luggage (65 lbs max.) for personal affects.
You are allowed to carry on one handbag and one small bag during flight.
Search weather forecast by dates for each country and pack accordingly. (dressing in layers is simpler than packing arctic clothing.)
Sturdy yet comfortable walking shoes
Modest swimwear (Red Sea Resort)
Sun gear according to your needs
Cash for tipping the housekeepers (bring multiple $1.- USD bills)
Travelers universal power adapter (Amazon link)
Cc. under-garments, there is a four-day stretch w/o laundry service. Pack accordingly.